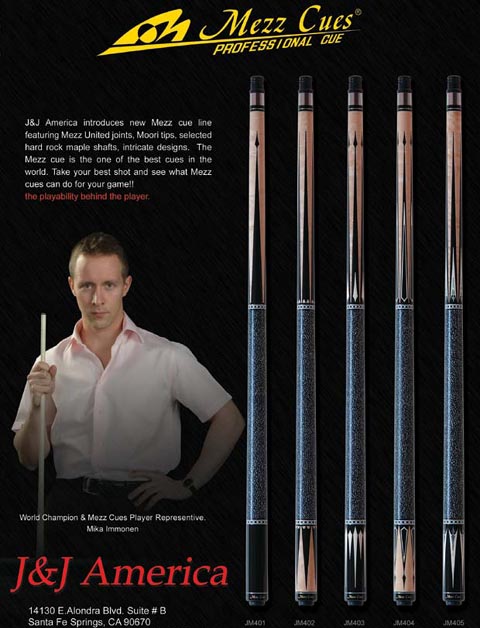 Mezz cues are built to the highest standards using some of the finest materials from around the world. Their cues are made with a commitment to total quality control at each step of the way. The best materials are carefully crafted using both traditional and modern methods. Designs are unique and unforgettable, ranging from the simplest shapes to complex and intricate patterns.
Mezz cues are the number 1 cues made in Japan. In their price range, Mezz cues are some of the best cues in the world for their exceptional quality and playability.
J&J America are the exclusive distributor of the following Mezz cues in the USA.
Mezz Cues J&J and MI Models Pricing: $403 - $1000
Mezz Cues J&J CJ 2012 Models

Pricing: $600 - $750
Mezz Cues J&J CJ Models Pricing: $350 - $950
Mezz Cues AXi Models Pricing: $380 - $900
Mezz Cues SA Models Pricing: $343 - $600
Mezz Cues Exotic Series Pricing: $293 - $502
Mezz Cues PUJ Series Pricing: $412 - $825
Mezz Cues 2001 LTD & CL Series Pricing: $961 - $1990
Mezz Power Break Cues Pricing: $250 - $512

Stock & price are subjected to change.
For further information about the Mezz Cues company and the Mezz cues, please check Mezz Cues website: