J&J Cue Bags
J&J Pro Cue Cases
Leather Cases
Key Benefits
Strong, durable, light-weight, with quality vinyl exterior
Individually lined tubes or satin-lined dividers with finest interiors to protect your valuable cues
All cases come with shoulder strap
Unbeatable value.
Scroll down the page for price and more cue cases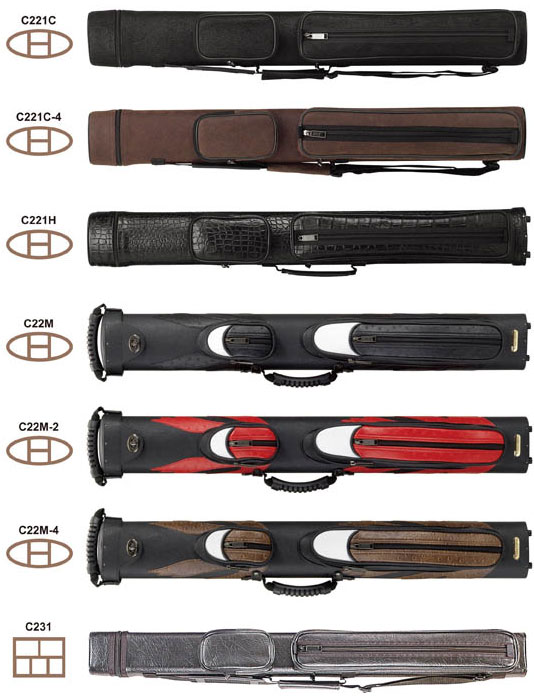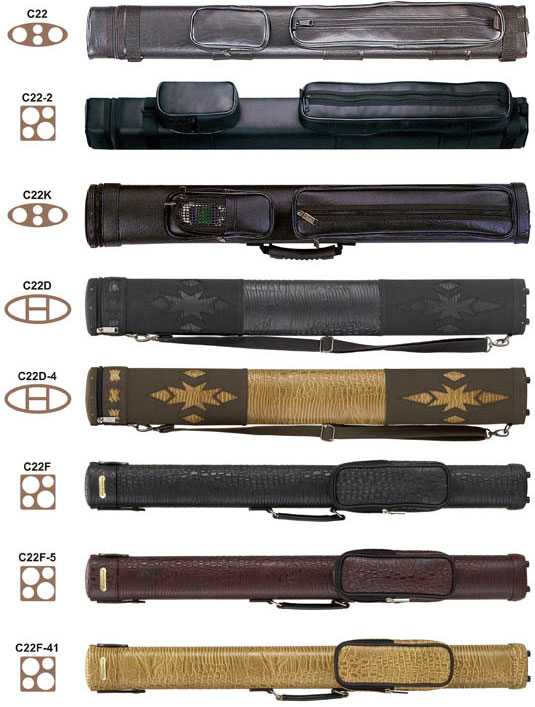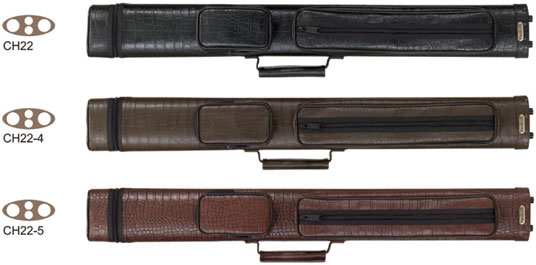 Pricing
top to bottom. Click on the case for a clear picture.
| Item No. | Description | Suggest Retail Price | Online Price |
| --- | --- | --- | --- |
| C221C | Hold 2 butts, 2 shafts, satin divider, Angora, black | $80 | $64 |
| C221C-4 | Hold 2 butts, 2 shafts, satin divider, Angora, brown | $80 | $64 |
| C221H | Hold 2 butts, 2 shafts, satin divider, black alligator print, | $80 | $64 |
| C22M | 2 butts, 2 shafts, satin divider, black texture with white, sport style | $185 | $145 |
| C22M-2 | 2 butts, 2 shafts, satin divider, black texture with red, sport style | $185 | $145 |
| C22M-4 | 2 butts, 2 shafts, satin divider, black texture with brown, sport style | $185 | $145 |
| C231 | 2 butts, 3 shafts, black, inside is satin divider | $75 | $60 |
| C22 | 2 butts, 2 shafts, Individual tubes, black, oval type | $80 | $64 |
| C22-2 | Hold 2 butts, 2 shafts, Individual tubes, square | $80 | $64 |
| C22K | 2 butts, 2 shafts, Individual tubes, black, oval, with 2 pouch | $140 | $110 |
| C22D | 2 butts, 2 shafts, black angora, with lizard print design, | | sold |
| C22D-4 | 2 butts, 2 shafts, brown angora, with lizard print | | sold |
| C22F | 2 butts, 2 shafts, tube, black alligator print, | | sold |
| C22F-5 | 2 butts, 2 shafts, tube, burgundy alligator print, | | sold |
| C22F-41 | 2 butts, 2 shafts , tube, tan alligator print, | | sold |
| CH22 | 2 butts, 2 shafts, fiber tubes, alligator print, black, | $115 | $90 |
| CH22-4 | 2 butts, 2 shafts, fiber tubes, alligator print, brown | $115 | $90 |
| CH22-5 | 2 butts, 2 shafts, fiber tubes, alligator print, burgundy | $115 | $90 |



Model # C22R
This is a 2 butts 2 shafts case, traditional design, hard shell, satin dividers inside, with 2 pouches, handle and shoulder strap
Retail Price $70, Online price $56



Model # C231
2 butts 3 shafts case, black, hard shell, satin dividers inside, with 2 pouches and jump cue pocket, handle and shoulder strap.
Retail Price $75, Online price $60



Model # C231-3
2 butts 3 shafts case, blue, hard shell, satin dividers inside, with 2 pouches and jump cue pocket, handle and shoulder strap.
Retail Price $75, Online price $60



Model # C231-4
2 butts 3 shafts case, brown, hard shell, satin dividers inside, with 2 pouches and jump cue pocket, handle and shoulder strap.
Retail Price $75, Online price $60



Model # C22W
This is a 2 butts 2 shafts case, Stylish design, satin dividers inside, with 2 pouches, comfortable handle and shoulder strap, see Handle & Strap
Retail Price $115, Online price $92

Nylon Cases


Model # C231N
This is a 2 butts 3 shafts case, Black nylon, traditional design, hard shell, satin dividers inside, with 2 pouches and jump cue pocket, handle and shoulder strap.
Retail Price $80, Online price $64


Model # C231N- 1
This is a 2 butts 3 shafts case, Grey nylon, traditional design, hard shell, satin dividers inside, with 2 pouches and jump cue pocket, handle and shoulder strap.
Retail Price $80, Online price $64




Model # C231N- 3
This is a 2 butts 3 shafts case, Blue nylon, traditional design, hard shell, satin dividers inside, with 2 pouches and jump cue pocket, handle and shoulder strap.
Retail Price $80, Online price $64


Model # C231N- 4
This is a 2 butts 3 shafts case, Brown nylon, traditional design, hard shell, satin dividers inside, with 2 pouches and jump cue pocket, handle and shoulder strap.
Retail Price $80, Online price $64



Model # C231T- 3
This is a 2 butts 3 shafts case, Black nylon with blue stitch, traditional design, hard shell, solid lined tubes inside, with 2 pouches and jump cue pocket, handle and shoulder strap. Upgraded bottom
Retail Price $100, Online price $80



Model # C231T- 5
This is a 2 butts 3 shafts case, Black nylon with red stitch, traditional design, hard shell, solid lined tubes inside, with 2 pouches and jump cue pocket, handle and shoulder strap. Upgraded bottom.
Retail Price $100, Online price $80

Price and color are subject to change. Color of the stock cases may be slightly different from the picture.
Email us for update Onsale price for any cues or cue cases