Production Cues
Joss Cues
Custom Cues
For limit of time, when order a Joss cue online, you may upgrade a Joss shaft to an OB1, OB2, OB Classic, or OB Classic Pro shaft, with $60* extra


Promotion: Add a second Joss shaft to your Joss cue, add only $100. Limited time only.
Key Benefits
Cues designed and made by Joss Cues in the USA
These are some custom made Joss cues. Each model has very limited quantity made.
All Joss cues come with one 13mm Joss shaft. If you like to add a Joss shaft, or upgrade to other shaft, please email us for special price.
Buy with confidence: All of our Joss cues are brand new & directly from Joss Cues. We are one of the largest distributors for Joss cues.
Big save: you save up to *15% from the retail price. Limited time only.
Bonus: Free deluxe Joss Cues joint protector, and Free J&J cue case per request, when you buy any of the Joss cues at online price. Limited time only.
Models & Pricing
Click on the cue or links for a clear picture.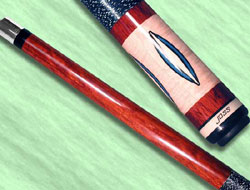 Model# Joss-AV06-0708
Solid bloodwood front, rear is bloodwood,
Tiger maple with ebony, holly, and color inlays
Regular price $430
Our Special Price: $365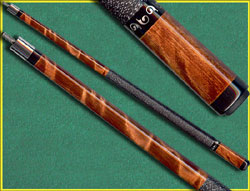 Model# Joss-CU14-0806
Curly maple front and rear with African
Black Wood ring inlaid with pearl in
a design reminiscent of French horn
Regular price $475
Our Special Price: $403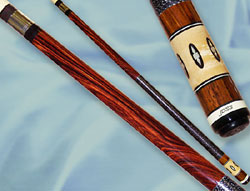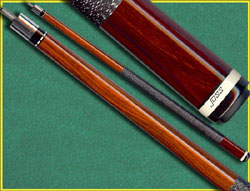 Model# Joss-07-13 Model# Joss-AV02-10-14-006
Highly figured cocobolo front Highly figured cocobolo cue, old style dash rings
Tiger maple with ebony and pearl inlay Regular price $395
Regular price $510 Our Special Price: $335
Our Special Price: $433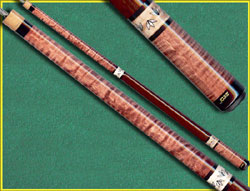 Model# Joss-613-AV06
Curly maple cue, cocobolo handle, total 64 pearl
and black inlays, a beautiful cue
Regular price $450 Sold out this time, will have it again soon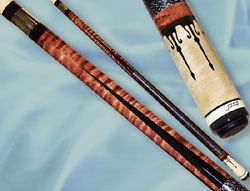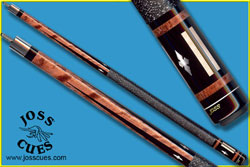 Model# Joss-823 Model# Joss-OP37-C18
Highly figured tiger maple with a nutmeg Flame birch, 4 black points with a notched pearl
brown stain and 4 solid points. Highly diamond at each point. The rear has white maple
figured tiger maple rear with unique rectangles with 3 large notched pearl diamonds
ebony inlays
Regular price $625 Regular price $600
Sold Our Special Price: $510

OB1, OB2, OB Claasic, OB Pro shaft fits Joss cues, made by OB Cues
Retail price $235, Our Special Price: $164.50
Upgrade from a Joss shaft, add $60
OB1+, OB2+, OB Claasic+, OB Pro+ shaft fits Joss cues, made by OB Cues
Retail price $258, Our Special Price: $219.30
Upgrade from a Joss shaft, add $80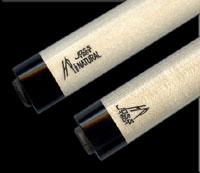 Joss High Performance Shaft comes in two style:
Natural-a traditional style shaft with HP package
Laminated-10 component pie splice
Retail price $250, Our Special Price: $216
Upgrade from a Joss maple shaft, add $100
When place order please mention you want Natural or laminated, black ring or dash ring

Email us for special price when add a second Joss shaft, or upgrade to a Predator 314-2 shaft or Z-2 shaft.
Email us for update onsale price for any Joss cue.
Stains, color & woods of Joss cues may be slightly different from the picture.
*On sale special price subject to change, & when stock available only. Free cue case style and value vary.
*Predator shaft made by Predator Cues, not by Joss Cues. It is possible the shaft size slightly different.
*Because some of the above cues are one of a kind or very limited qty made, when sold out, we will not have the same cue at the same sale price. Please email us for update inventory.