Production Cues
Kaiser Cues
Custom Cues

Key Benefits
High-Tech techniques to make these Decal cues look and play like a real inlay cue costs hundreds to thousands dollars. Come with maple shaft installed with water buffalo tip or layer tip, linen wrap.
Lowest price guarantee for these high quality cues.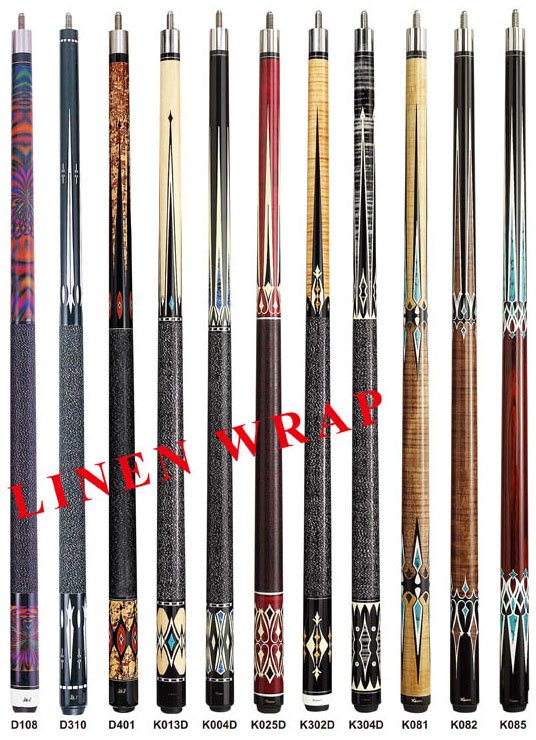 Pricing
Left to right. Click on the cue for a clear picture.
| Model No. | Description | Retail Price | Online Price |
| --- | --- | --- | --- |
| D108 | J&J Decal cue, linen wrap, stainless steel joint | $95 | sold |
| D310 | J&J Decal cue, linen wrap, stainless steel joint | $95 | sold |
| D401 | J&J Decal cue, linen wrap, stainless steel joint | $100 | $80 |
| K013D | Kaiser Decal cue, linen wrap, stainless steel joint | $100 | $80 |
| K004D | Kaiser Decal cue, linen wrap, stainless steel joint | $100 | $80 |
| K025D | Kaiser Decal cue, linen wrap, stainless steel joint | $100 | $80 |
| K302D | Kaiser Decal cue, select curry maple wood, tiger stripe | | sold out |
| K304D | Kaiser Decal cue, select curry maple wood, tiger stripe | | sold out |
| K081 | Kaiser Decal cue, solid Curry maple wood handle | $120 | $95 |
| K082 | Kaiser Decal cue, solid Curry maple wood handle | $120 | $95 |
| K085 | Kaiser Decal cue, solid red wood handle | $110 | $90 |
| XS/KS | Extra shaft for above Kaiser cue. | $45 | $35 |
* If you want to upgrade a Kaiser shaft to an OB shaft, email us for the special price.
*Price subjected to change